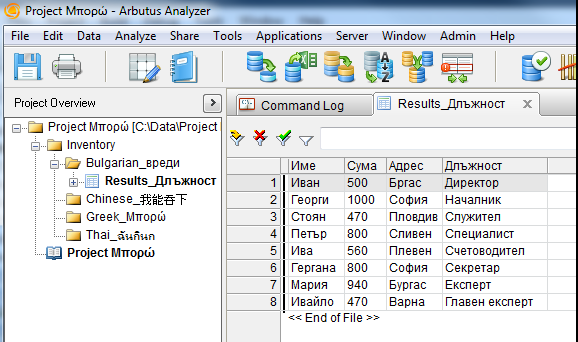 Arbutus actively listens to its users and continously improves the software suite by adding modifications and new features.
Arbutus Analyzer, Server and ConnectPlus users with an active Maintenance & Support can download the latest software releases free of charge.
Arbutus Analyzer V6.0, as released in November 2015, includes the enhancements listed below and more.
So, what is new in Analyzer 6.0?
Full unicode support
Analyzer 6.0 now offers full Unicode support (UTF8 and UTF16) for all languages, as well as full keyboard support for Unicode with the Data Definition Wizard, the Command Line in the Command Log, the Procedure Editor, and more. Foreign file names (such as those in Chinese or Cyrillic) are now also supported.
Button bar
The redesigned icons on the Button Bar are now larger, facilitating at-a-glance recognition. Users can also make the icons large or small via: Tools > Options > Interface.
Project Overview
Overview explorer
You can now expand the Overview with a click, to allow easy object management, such as mass deletion or movement, as well as renaming of project items from within a project folder or from the project root.
Arbutus repository
You can now use Analyzer as a repository for documents from other applications. Documents from other applications (such as Excel) can now be launched directly from Analyzer, with just a click. As you can see from the image on the right, we have included Microsoft Word and Excel documents in the Overview. Mapped file types such as these will be displayed in the Overview, and when clicked, will open the mapped file in the desired third-party application. To support this, an Overview tab has also been added to Tools > Options that enables mapping of external file types to third-party application.
Improved commands
Export
Schema support has been added in command mode for ODBC export types so that an optional schema can be specified as "TABLE schema.table".
Stratify
You can now stratify on elapsed times.
Directory
The Command Log output for the Directory command has been enhanced to support tabular output.
SQL
V6.0 now supports USERID and PASSWORD parameters for scripting.
Notify
The Notify command dialog has been enhanced and simplified.
View
The View filters for every table layout now 'remember' the last 20 named or ad-hoc filters used, for quick and easy re-use.
A new View right-click option allows you to Resize All Columns at one time
Consolidated and expanded global font settings
Font control has been streamlined to be more efficient in Version 6.0. All font control is now global and is accessed via the Tools > Options > Font tab. Global fonts now apply to the Command Log, Procedure Editor, and Overview Pane, and to new Views.
Relations dialog for multiple selection of child tables
The Add tables dialog in the Relations dialog now allows multiple selection of child tables via CTRL or SHIFT key options.
New ASCII code page selector in Data Definition Wizard
When reading ASCII data that is not in the local language, a new code page drop-down list in the Character Set panel of the Data Definition Wizard now specifies the code page for the desired ASCII language.
and more …
We are here to help!
Sepia Solutions focusses on these GRC tools, so we have all required expertise to assist.