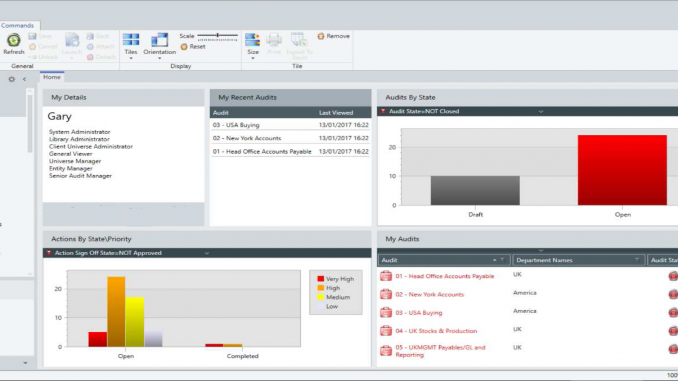 Ideagen Pentana 5.1 is an enhancement release, available from March 2017. It is supplied as a free upgrade to existing supported customers, including those who migrate from our Pentana Audit Work System ("PAWS") software, and as standard to new customers.
So, what is new in Pentana 5.1?
This overview, summarizing the enhancements and new features, is intended for customers to help prepare for upgrade to Pentana 5.1. Please refer to the Pentana Help Guides if you need a more detailed description of general product features.
The main enhancements in Pentana v5.1 include…
Windows user interface (WPF UI)
Home Dashboard
The Home screen which welcomes the user to Pentana has been improved to provide quicker/more flexible access to the most useful information. The improvements include:
New "tile" interface
New Widgets (including Charts)
Improved layout options (multiple columns, variable sized Widgets)
Improved Widget picking interface
Improved configuration options (e.g. filtering, column picking)
Load/Save Views (including making a saved view "public")
Audit Dashboard
When an Audit is launched the user is now taken to an Audit-level Dashboard which is similar to the Home Dashboard in terms of functionality but contains Widgets displaying data specific to that Audit.
The set of available Widgets includes numerous charts which are designed to indicate overall Audit progress and which area of the Audit need attention. They direct the user toward the work they need to perform rather than them having to go searching for it by clicking each spine item in turn.
Time Recording
Time spent on Audits (and non-Audit Tasks) can now be recorded within Pentana. The functionality includes:
Time can be recorded against an Audit or Task (e.g. Holiday)
For Audits recorded time can be broken down by Component if required
Comments can be added against each Time Sheet Line
Time Sheet can be marked as Completed/Approved
System Settings control day length and weekend visibility, etc.
Flexible validation rules for Time Sheets
Flexible Time Sheet Periods
Control over which of the Staff (or Contacts) must record time
Dashboard Widgets for Managers to see "overdue" Time Sheets
The recorded time is then rolled-up to Audit level to allow the Audit Manager to compare the Budget/Planned Time vs. Actual Time which has been recorded.
Multiple Risk Impacts
Pentana can now be configured to allow Risk Impact to be measured in terms of multiple factors such as "Financial", "Reputational", "Health and Safety", etc.
When Multiple Impacts are turned on the "overall" Impact is calculated as the largest of the scores for each individual factor. The Ratings and Scores which arise from each individual Impact Score (after combining it with the Likelihood) are all available to show as column on the Data Grid (and hence on reports).
Review & Points
The relationship between Reviews and Points has been removed so they are now completely independent of one another.
Most Audit-level objects such as Steps, Tests, Findings, etc. can still have Points but they are no longer allowed outside of an Audit. In particular, they can no longer be added to Actions and Key Issues/Incidents.
Many objects (including those outside of an Audit, like Action) continue to have Reviews and this functionality has also been improved to include displaying each item's Review "history" as a child Data Grid and allowing the "Last Review" information to be easily included on screen/reports.
Each item now also has a "Review State" to indicate if it is "Not Reviewed", "Changed" (since Last Review) or "Reviewed" (and not subsequently changed).
Entity-level Reviews
To make it easier for the Entity Risk Register to be assessed/reviewed in an on-going cycle the Entity ORCTs can now have "Reviews" in the same way as their Audit-level counterparts.
As at Audit-level, an Entity ORCT can be Reviewed by multiple users with the most recent one being displayed as the "Last Review" (for reporting purposes). If an item has been "Reviewed" and is subsequently changed or re-assessed (or has the assessment cleared), it reverts to a "Changed" state so the Risk Manager can easily see that it needs to be re-reviewed. This new functionality has also been added to the Web UI.
It is therefore no longer necessary to create a Risk Review Audit in order to carry out a periodic reassessment of the Entity Register, although an Audit is still required/recommended if you wish to include Findings, Points, etc. in your review.
Rich Text Editing
The interface for editing Rich Text fields has been greatly improved and is now a full screen editor with a large number of text editing commands available via the Ribbon.
Basic formatting options include font/size, bold, underline, italics and colours, etc. but some advanced options are now also fully supported such as alignment, bullet points, tables, tick/cross icons and commands like Cut, Copy, Paste, Find and Replace.
Retire Entity/Processes
Entities and Processes already each had an Active flag which could be set to False. Inactive items are hidden from the Navigators and Hierarchy Matrix and can no longer be used for the Scope of an Audit or Action, etc.
However, in order to set an Entity or Process to inactive it is necessary to "close" off all the linked items. During that time the Entity or Process could still be actively used.
It is now possible to mark an Entity or Process as "Retired" which has the effect of preventing new items from being assigned to them and yet still showing them on the Navigators and Hierarchy Matrix in order to track the remaining "open" items which are still linked to them.
Convert Staff of Contact
It was already possible to "convert" a Contact to Staff in the event that they change from being a Business User to a full member of the Audit Team. It is now also possible to convert back the other way if required.
Minor enhancements
The following is a selection of the other minor enhancements in this release:
Get "Out of Scope" items
Data Grid Warning / Data Grid Limit
Risk / Control Assessment Property Grid Section
Charting by all Segmentations
Exposing Super-Segmentations
Analyse Audit Notes
Action Update "History" Fields
Hierarchy Matrix Usability
Web user interface (Web UI)
Get from Library/Entity
When managing an Entity Register in the Web UI it is now possible to "get" ORCTs from either the Library or another Entity which is mapped to the same Processes:
Refresh from Library
Furthermore, when an Entity Register contains items which originated in the Library it is now possible to "refresh" them in order to apply any changes which have been made to the Library since they were "got":
Risk/Control Matrix
The Web UI now also includes a Risk/Control Matrix UI to show the spread in terms of Likelihood/Impact and Design/Operation respectively.
Windows Authentication
The Web UI can now also be configured to use Windows Authentication if required. This reduces the administrative burden of using forms-based authentication on a large internal implementation.
We are here to help!
Sepia Solutions focuses on these GRC tools, so we have all required expertise to assist.
If the information above is a bit too much, or too detailed, just contact us for additional training or workshops to highlight the topics of your choice.
We also offer technical assistance to perform the actual software upgrade itself.