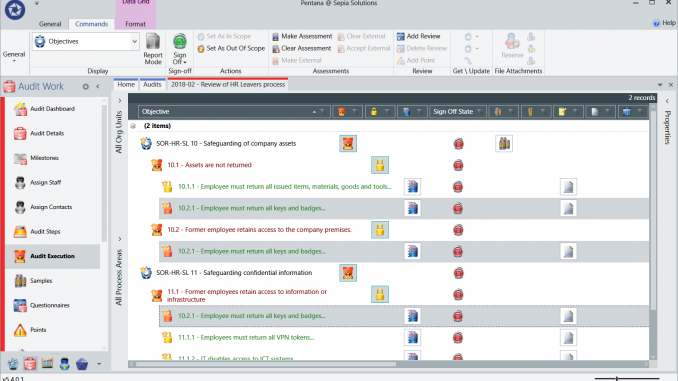 Pentana 5.4 is an enhancement release, available from July 2019. It is supplied as a free upgrade to existing supported customers and as the the standard to new Pentana customers. Pentana users with active Maintenance & Support can download Pentana materials and software free of charge.
So, what is new in Pentana 5.4?
This overview, summarizing the enhancements and new features, is intended for customers to help prepare for upgrade to Pentana 5.4. Please refer to the Pentana Help Guides if you need a more detailed description of general product features.
The main enhancements in Pentana v5.4 include …
Windows user interface (WPF UI)
Linked controls
Controls can now be linked to more than one Risk within the Library, Entity, and Audit, within a single Process. The original Controls are shown in yellow, and the linked Controls are shown in Orange. When viewing from a Risk perspective, all original and linked Controls can be shown as children of the Risk. When viewing from a Control perspective, the original and linked Risks are shown using a hover-text field
With this new functionality, there is one record of the Control. If a Control is edited or assessed then the change is reflected throughout the linkage, without requiring a refresh. This also means that the Control Matrix only displays the Control one time, even if the Control is linked to more than one Risk. For Analysis at the Control perspective, this means that the Control is listed once. However, for Analysis at the Risk or Objective perspectives it could be listed more than once depending on how many Risks it was linked to. The same logic applies to child Tests and Findings.
Local matrix configuration
It is now possible to have different Risk and Control matrix sizes and configurations for different levels of the Organisation Structure. "Local Matrices" are set up as child matrices. The child matrix is mapped to the parent matrix to allow appropriate group roll-up for reporting purposes.
Charting and Analysis can also occur at either the Local or Group levels. Org Units and Entities can be set to a local matrix through the Organisation Structure, and when a Risk or Control is assessed the appropriate matrix is used.
New check-out & check-in interface
The "Check Out" dialog box has been redesigned and now includes several new quick filters for quick, convenient access such as My Open Items and Completed Items. Additionally, all records that do not match the quick filters can be checked out as read only by selecting a single tick box.
The "Check In" dialog box has also been redesigned and now includes the quick filters. For consistency, the "Undo Check Out" dialog box has been redesigned.
Improved Retain integration
Changes have been made to allow audit planning to occur within Retain, with the changes pushed to Pentana Audit through the Robot:
When a person is assigned to an Audit in Retain, a robot job pushes the person to Pentana Audit and assigns them to the Audit. There is now a system setting in place that sets the person being added as either "Inactive" or "Active" by default.
A system setting has been added to allow the Budget Time for a person to equal the sum of all bookings made for that person within Retain, including ghost bookings. When Budget Time is changed in Pentana Audit, it will also reflect in Retain. The Planned Time remains the same in that it represents total amount of time for confirmed bookings within Retain.
When a booking is deleted in Retain, the person is changed to "Inactive" within Pentana Audit and both the Budget Time and Planned Time are set to zero.
A system setting has also been added that allows the Planned Start Date within Milestones in Pentana Audit to change if the confirmed booking in Retain changes. The Planned Start Date will reflect the earliest booking date, if it differs by person.
Additionally, the synchronization of "Audit" in Pentana Audit and "JOB" in Retain, and "Person" in Pentana Audit and "RES" in Retain can now optionally be two-way, subject to Pentana Audit Business Rules.
Aggregation grid tiles for dashboards

On the Home screen, Aggregation Grid tiles can now be configured, allowing the user to create tiles of their own design, similar to Chart tiles. Users attempting to "Reset" a Dashboard will be reminded that doing so will revert to the default dashboards.
Export time sheets
Users can now export Time Sheet data to Excel from within the Time Sheets screen. Improvements have also been made for entering Time Sheet data.
When adding an Audit to a Time Sheet, there is now a Filter Bar to help the user find the Audit they are looking for.
There is now the option to "Copy Previous" which will copy the Audits and Tasks from the prior Time Sheet and add them to the current Time Sheet.
The Time Sheet Period Navigator now includes a toggle to Show/Hide Closed Time Sheet Periods.
Web user interface (Web UI)
Linked controls
The display of parent information is now hierarchical to allow for Linked Controls, similar to how it is displayed in Pentana Audit. The Web UI displays Controls that have been linked within Pentana Audit, as well as allowing the user to link Controls directly within the Web UI. Users viewing Controls in the Web UI can navigate to the original or any linked Risks for that Control. The same color scheme as Pentana Audit -yellow for original Controls and orange for linked Controls- is used.

Local matrix configuration
Risk and Control Assessments in the Web UI utilize the local matrix set in Pentana Audit.
Export to MS Excel
Any Data Grid in the Web UI can now be exported to MS xcel including the current columns, filters, sorts settings, etc. This allows for better reporting and output of Web UI data.
Guidance
Guidance for each field input within Pentana Audit is now displayed on the Web Property Grid.
Direct URL
URLs can now be set to take a user directly to a dashboard within the Web UI.
My profile
A "My Profile" screen has been added to the Web UI, similar to "My Details" screen in Pentana Audit. This screen shows login information, email address, manager, department information, and assigned roles for the user.
Technical
Security
FBA passwords can be configured to prevent users from recycling their password within a given time period, and to expire after a given time. Password reset links will now only remain valid for a configurable amount of time. Additionally, the Password Reset Confirmation page now navigates the user back to the Web UI, if present.
LDAP
If the database has been set up such that users can be added from LDAP, and the robot job is set up to sync between Pentana Audit and LDAP, then the robot job can now add Staff and Contacts matching certain criteria, in addition to updating and deleting. LDAP Identity Mappings can now be edited via the App Manager.
Minor enhancements
Audit/Process Sign Off
A System Setting has been added to make the Audit/Process Sign Off automatic on Audit Completion, if Processes are not used in an Audit.
Audit Completion
Cancelling the "Upload to Entity" dialog at the end of an Audit now results in the Audit remaining Open, rather than marking it as Completed when the "Upload to Entity" did not occur.
Org Structure Navigator
The Org Structure Navigator in all Audit-level screens now only shows the part of the Universe that is relevant to the Audit.
Assign Person
When Assigning a Person to an Audit, there is now a Filter Bar which will help the user find the Person they wish to add.
Actions Navigation
If an Action is selected through a cross-reference, the navigation takes the user to the Actions screen for "Not Tracked" Actions, or the Action Updates screen for "Tracked" Actions.
Review of Actions
Actions can now be Reviewed on any screen including Action Tracker and Analysis.
Entity Business Reviewer
There is a new field on the Entity Process, Objective, Risk, Control, and Test called a "Business Reviewer." This field is hidden within Properties Panels by default. This information can also be displayed in a home screen dashboard in the Web UI.
Cross Reference Navigation
If any item is selected through a cross-reference, the navigation takes the user to the target screen as always. However, if the cross-referenced item is not visible on the target screen due to Filters, then the Filters are removed to ensure visibility.
Login Activity Screen
Logout of the Web UI is now recorded in the Login Activity screen.
Display of Parent Information
On the Property Grid, the Parent Information has been removed and replaced with a "Context Information" window that can be accessed by hovering over the relevant icon.
Change Navigation Pane Headers
The Terminology screen now allows users to rename the Navigation Pane Headers such as Universe, Library, Admin.
Rich Text Editor
The Rich Text Editor remains open if the user clicks "Save" during an edit rather than automatically closing upon Save.
Attachments in Rich Text Fields
There is a new button called "Attachment Link" which allows the user to easily link an Attachment when editing a Rich Text Field.
Floatable Tabs
User Interface tabs in the Pentana Audit screen can now be "floated" and moved away from the main application window, letting users see more than one page of information at once.
Navigation in Web UI
The "Back" Navigation has been improved in the Web UI from various screens to return the user to the prior screen rather than default or entry screens.
Make Assessment in Web UI
The "Make Assessment" button has been moved and made more prominent on the "Assess Register" page.
We are here to help!
Sepia Solutions focuses on these GRC tools, so we have all required expertise to assist.
If the information above is a bit too much, or too detailed, just contact us for additional training or workshops to highlight the topics of your choice.
We also offer technical assistance to perform the actual software upgrade itself.