On Monday, May 6th 2019, IIA Bel and the European Commission's Internal Audit Service organized the joint event "Discussion of Internal Audit Standards with the Global IIA Chair" with Mr. Naohiro Mouri, CPA, CIA, the Chairman of IIA Global. Mr. Mouri shared his knowledge on the topic of applying and interpreting the professional Internal Auditing Standards. Peter Hartog of IIA Netherlands introduced the Ambition Model for internal audit and Dr. Manfred Kraff talked about the importance of professional ethics. (Article and photograph posted on LinkedIn by IIA Belgium.)
The accidental auditor
The history of Mr. Naohiro Mouri on how and why he became an auditor was most motivating. In fact I even noticed some parallels there.
Mr. Naohiro Mouri's video on audit standards was a very nice touch. Mr. Mouri exhibited a refreshing way of delivering his message and his presentation was most impelling and motivating.
Data analysis to provide full assurance
Mr. Naohiro Mouris clearly stated his successes and future objectives in terms of data analysis. Subsequently, Mr Mouri explained how the audit department of AIG already invested in data analysis and will continue to do so. Applying data analytics, he argues, allows the audit team to test all data instead of just a sample. This is the only way to provide full assurance.
Auditors investigate anomalies
In addition, instead of having the auditors spend time in performing the analysis, the basics can be automated so the auditors can better invest their time in focussing on the anomalies reported by the automated analysis.
I hope it will be embraced by those who are (were?) not yet convinced of such an approach.
Talk over lunch
As it happened, Mr. Naohiro Mouri and Dr. Manfred Kraff joined us at the table where I was sharing lunch with two clients. There, we continued on some of the topics brought to the fore during the presentations.
Not one to take selfies, this was a picture opportunity I could pass up.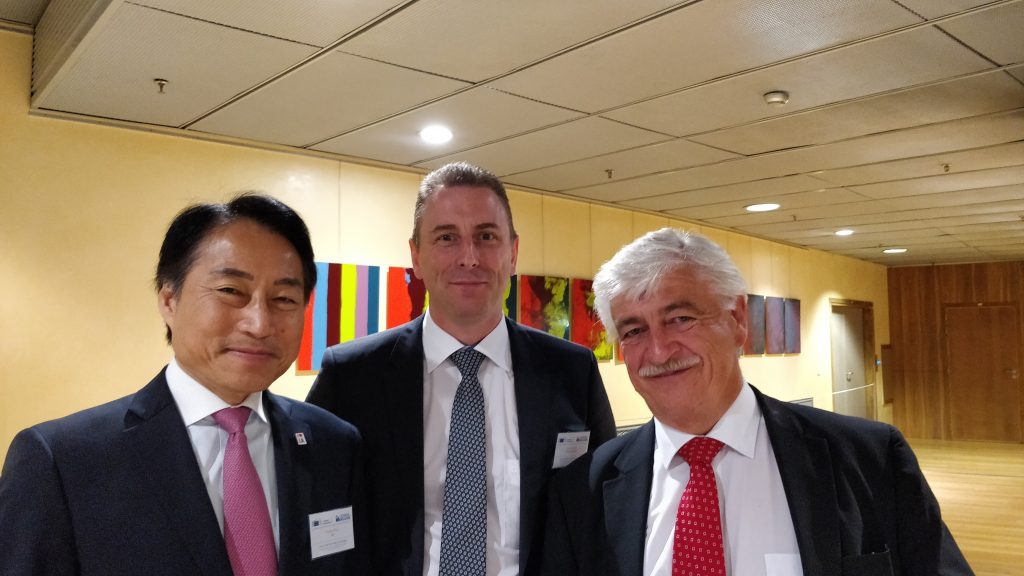 Wish to know more about data analytics?
Sepia Solutions specialises in data analysis software and services. If your audit department has not yet embarked in this journey, get in touch with us! We will arrange a demonstration of Arbutus Analyzer and explore how to best get you started on data analytics.