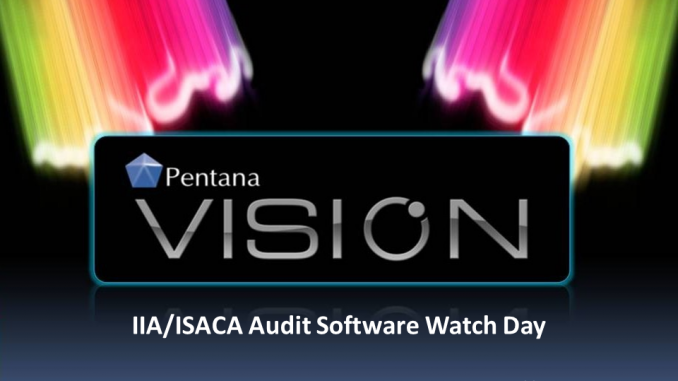 The Belgian chapters of the IIA and ISACA organised this event, free for their members. The event targeted professionals such as audit managers, risk managers, forensic auditors, public sector auditors, CPA's, certified accountants and financial controllers.
Technology to manage your audit work efficiently
For this edition, Alain Rousseau, of Sepia Solutions and Ken Ebbage, CEO of Pentana prepared presentations focusing on the topic of efficiency. After all, the Pentana audit management software includes many features that can improve efficiency.
Increase audit efficiency; add tangible business value
The audit and risk management software Pentana, is very comprehensive. Once we have it implemented and configured to your methodology, it supports all your audit assignment activities.
In this session we demonstrated how Pentana increases the efficiency of the audit department. We highlight some relevant features:
We also illustrated how it supports the collaborative audit efforts and safeguards the valuable know-how of experienced auditors.
We then demonstrated how the internal review cycle adds quality assurance to your processes. Finally, we covered how standardisation can increase the professionalism of the department.
Risk-based auditing and Pentana
Audit plans are based on priorities and criteria, often including many levels of risk assessment. Some organisations find it challenging to use these risk assessments to validate the audit plan.
In this session we demonstrated how Pentana can be used to assist in creating a risk-based audit plan. This audit plan is based on high-level (top-down) risk assessments combined with detailed (bottom-up) risk assessments per entity and process. Internal audit departments have expressed their wish to move from linear audit work programmes towards risk-based auditing.
Before finishing, we showed how risk and control assessments may be used within an audit to determine which parts of the audit programme to include in the scope.
Thank you
We sincerely thank all the visitors and guests we were able to welcome to our sessions and booth.
Do you want to know more?
We look forward to demonstrating our software in more detail during a presentation session at your offices. Request your free demonstration through the form below.